Magic Irish Boxer Shorts!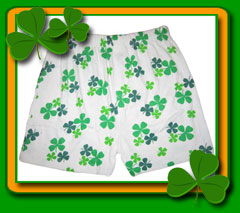 Click on the image above or HERE to see how the "magic" works!

A Steal at only $10 Bucks!
These are the coolest things you've ever seen! "Erin go bra. Sorry, we are out of bras but we do have these great shorts."
All of our Magic Boxer Shorts are unisex and made of 100% soft natural cotton, printed with tested and approved Eco-friendly® pigments.
Remove the wrapper place Magic Boxer Shorts in water for 3-5 minutes you will have a perfect pair of boxer shorts!
Available in sizes, small(30-32), medium(34-38), large(38-40), and x large(42-44) 100% Cotton Jersey.